Brand Story
Dilys' has been creating fine jewellery and is renowned for its bold and daring designs. Started as a bespoke jeweller in 1991, today, Dilys' exquisite designs captured the hearts and attention of beautiful women from Hong Kong, China, Taiwan, Malaysia, Singapore, Indonesia and more.
In 2006, Dilys' Collection introduced the designer brand, Dilys', during the exhibition in Singapore. The launch of NOVEL collection in 2008, followed by VINTAGE and LADY collections in 2009 and 2010 respectively, brought the company into a new era. Original, creative and audacious with colour, Dilys' innovative and artistic pieces have a strong dynamic presence and are practical for the modern woman. Unique and exclusive, each piece is a work of art and can be worn to work its magic –"Enhancing your Charm"– or treasured as a collectible.
The brand's founder, Dilys Young, is committed to preserving the art of handcraft jewellery-making in town. Despite the high cost, Dilys' jewellery workshop has been developed to a 4,000 sqft factory with a team of local designers and artisans, who work closely to ensure every piece is crafted to perfection. Dilys' pieces are handcrafted in their Hong Kong workshop by a team of experienced dexterous artisans and use only the finest diamonds and gemstones. After Hong Kong and Shanghai, Dilys' continued to expand its presence to Taipei in late 2013. Aiming to promote the awareness of its "Pride of Hong Kong" designer brand around the world, Dilys' is committed to creating contemporary and artistic jewellery designs of excellent craftsmanship and timeless appeal.
Milestone
Milestone 1991
Milestone 1992
Milestone 1995
Milestone 1998
Milestone 2003
Milestone 2006
Milestone 2008
Milestone 2009
Milestone 2010
Milestone 2012
Established Dilys' Collection

Participated in a Trade Show in Taipei

Participated in a Trade Show in Kuala Lumpur

Acquired 1,500 sqft workshop in Central, Hong Kong

Participated in Trade Shows in
New York and Las Vegas

Launched the jewellery label Dilys' and
expanded in Singapore

Launched the NOVEL collection

Launched the LADY collection
Acquired 4,000 sqft workshop in Sheung Wan, Hong Kong

Registered the Dilys' trademark in People's Republic of China
Celebrated Dilys' Collection's 20th Anniversary

Joint CEPA and opened Shanghai office
Dilys Young
Founder & Designer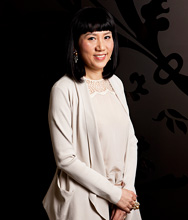 "Everyone of us is different, and everyone of us deserves a unique style to express ourselves…" No one understands that better than the jewellery designer, Dilys Young, herself. Passionate about art and jewellery, the designer established her eponymous brand Dilys in 1991, and is known today for its unique style of design, acclaiming as one of the most successful jewellery designer brand to come out of Hong Kong.
The celebrated designer draws her inspiration from nature because she believes flora and fauna are the perennial favourite of women. The brand has won acclaim for its trendsetting colour aesthetic. In the early 1990s, Dilys pioneered the use of such natural coloured diamonds as browns and yellows. The designer's well-known for her vibrant mixtures of multiple contrasting colours create a vivid harmony with subtle gradations of shared and a timeless appeal. For instance, her magical colour touch rejuvenates the look of jadeite jewellery, transforming jadeite pieces into contemporary, trendy designs for young jewel enthusiasts.
Impeccably hand-crafted, every Dilys jewellery design composes several detachable components that can be worn in various ways to present a brand new look. This practical consideration reflects Dilys understanding of the requirements of today's career women. The designer knows full well that modern jet-set women with a busy lifestyle want versatile designs perfect for different occasions, be it business meetings, cocktails or glitzy dinner parties. Dilys jewellery is tailored to suit their diverse roles in life.
Tailor-made jewellery designs are a lifelong passion of Dilys Young. "Custom-designing jewellery is part of the holistic image cultivation of individual clients because bespoke jewellery is ideal for enhancing their unique aura and style. I develop every custom-made design based on the unique personality and style of each customer. These bespoke jewellery pieces make special occasions such as important anniversaries and weddings become even more memorable" said the deisgner. Bespoke service is available at all outlets of Dilys.